6 Key Google Pixel 7a Features That Make This Budget Phone Stand Out
The Google Pixel 7a debuted during the Google I/O 2023 keynote this week, though you might have missed it amid all the AI ​​talk and the many different ways it's going to appear in the various Google products. In the briefest of stage appearances, we learned about the Pixel 7a's price ($499) and some standout features (it has a better camera), before moving on to the other hardware Google wanted to talk about.
And I understand. The Pixel tablet and Pixel Fold are entirely new products for Google, while the Pixel 7a is the fifth iteration of a budget phone that takes inspiration from a flagship that's been out for over six months. Google thought it had bigger fish to fry.
But I spent some time with the new phone for my Google Pixel 7a review, and I think it's a mistake to dismiss the phone as just an update to Google's mid-range handsets. The Pixel 7a is one of the best budget phones under $500 and the only reason it doesn't claim that title is because the Samsung Galaxy A54 is just a bit cheaper. I would definitely say the Pixel 7a is one of the best Android phones you can buy right now.
So if you're tuning into Google I/O hoping for more Pixel talk or even just missed Google's presentation altogether, here's why you should be excited about the Pixel 7a.
These Tensor experiments in a cheaper phone
Google mentioned the merits of having a Tensor G2 in a budget phone to some degree, detailing how the Pixel 7a offers the same kind of AI-driven features you can get on a Pixel 7 flagship.
Having now used the Pixel 7a (and the Pixel 7 when it was released last fall), I think it's easy to underestimate what this means for your everyday phone experience. The Pixel 7a has a number of tricks you just won't find on other phones under $500.
The Google Recorder app is one of the best built-in apps you'll find on a phone – it's also present on the Pixel 7a. And just like on the Pixel 7, the Pixel 7a's Recorder app can recognize when different people are speaking and tag them in the on-the-fly transcription it can generate from a recording. If you conduct a lot of interviews or have a lot of brainstorming sessions where a lot of people are talking, it can bring new clarity to your notes.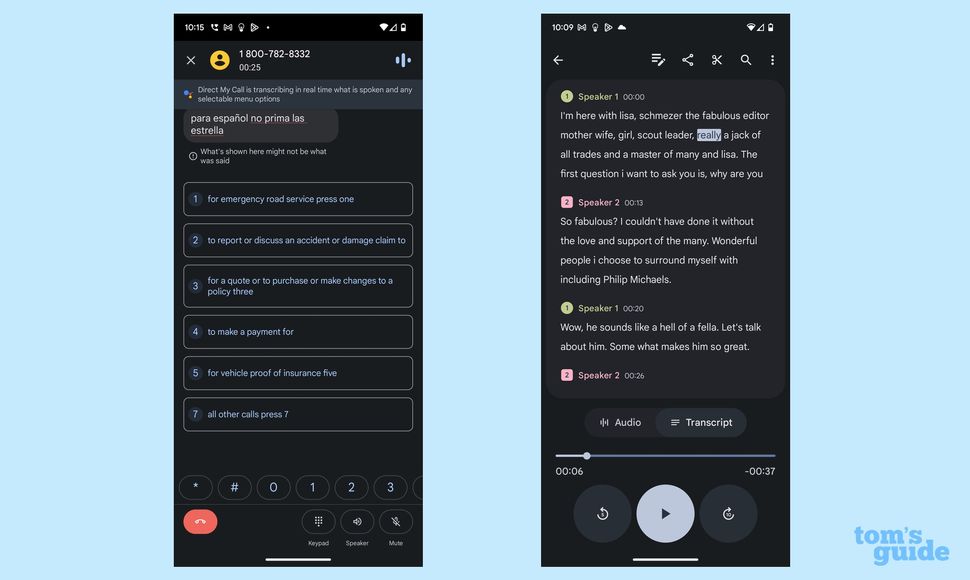 That's not the only trick available to the Pixel 7a. It can use Google's Magic Eraser tool to rid your images of photo bombers, and Photo Unblur can brighten blurry faces that might otherwise spoil a perfect image. There are smart call management tools, Google Assistant shortcuts, and more, all made possible with Tensor. The chip essentially gives the budget Pixel 7a the kind of superpowers you'd associate with a high-end flagship.
Cameras are better than ever
Past Pixel A phones have always won accolades for their photos, and the Pixel 7a is no exception. This time, however, it's not just Google's photo-editing software doing the heavy lifting, as the 12.2MP primary camera used by Google on previous models has been replaced by a sensor. larger 64MP on the Pixel 7a. As a result, the Pixel 7a captures more light and recreates more detail.
Consider this shot of a lamp, captured by both the Pixel 7a and the Galaxy A54. Both shots are very strong, but I feel like the Pixel 7a edges out the A54 for a shot that shows off more surface detail. I also appreciate that the shadows at the edge of the shot are less prominent in the Pixel 7a photo.
I should note that like many Pixel phones, the Pixel 7a tends to produce darker colors, and it doesn't always work for photos like in the photo above. In fact, the Pixel 7a/Galaxy A54 camera comparison ends up being pretty close. But there's no denying that these photos don't look like something a $499 phone would produce.
You get premium features for less
Speaking of features you won't necessarily find in cheaper phones, the Pixel 7a offers a 90Hz display. This faster refresh rate can lead to smoother scrolling and a more immersive overall experience. Compare that with Apple's iPhone SE or even the more expensive iPhone 14, both of which have 60Hz refresh rates. It's quite a different experience.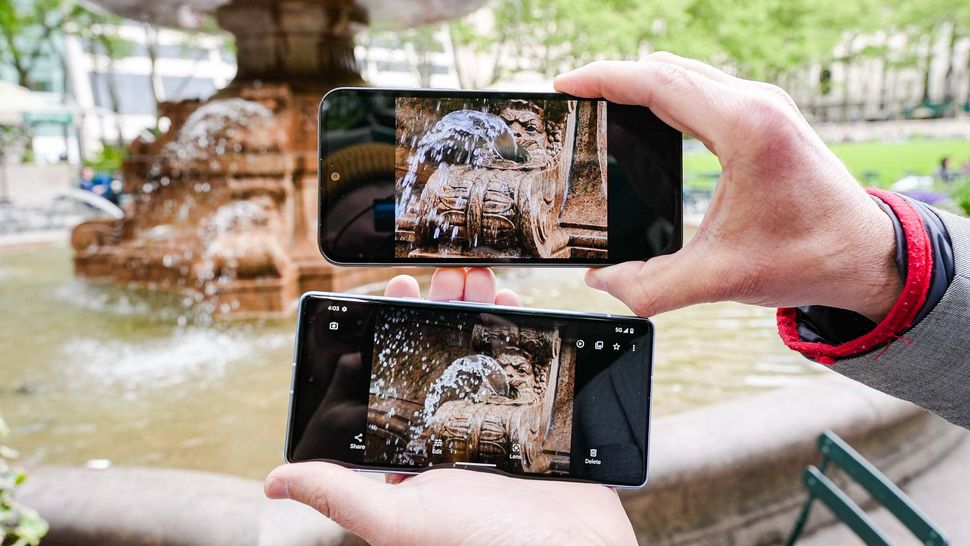 Yes, plenty of budget phones have fast refresh screens, with some like the Galaxy A54 even offering 120Hz rates. But few of these phones also let you charge your phone wirelessly like the Pixel 7a does.
Put it another way – a fast-refreshing display, wireless charging support and improved cameras are the kind of things you'd expect from a top-end phone. (Just watch our Pixel 7a vs Pixel 7 comparison to see how much these two phones have in common.) But the Pixel 7a offers all of those things in a very affordable package, even after a $50 price hike from the first price of his predecessor.
Battery life is better than the Pixel 6a
Neither the Pixel 6a nor the Pixel 5a before it really impressed when it comes to battery life. The Pixel 5a came at least close to the average smartphone result in our battery test, where phones are forced to surf the web until they run out of power. However, the Pixel 6a was around 3.5 hours off that rate, which has us worried about the performance of the Pixel 7a.
It turns out that the Pixel 7a beat the average smartphone time of 10 hours and 5 minutes when we tested it. The problem was that the phone was set to its default 60Hz refresh rate – we have yet to test with the 90Hz rate enabled.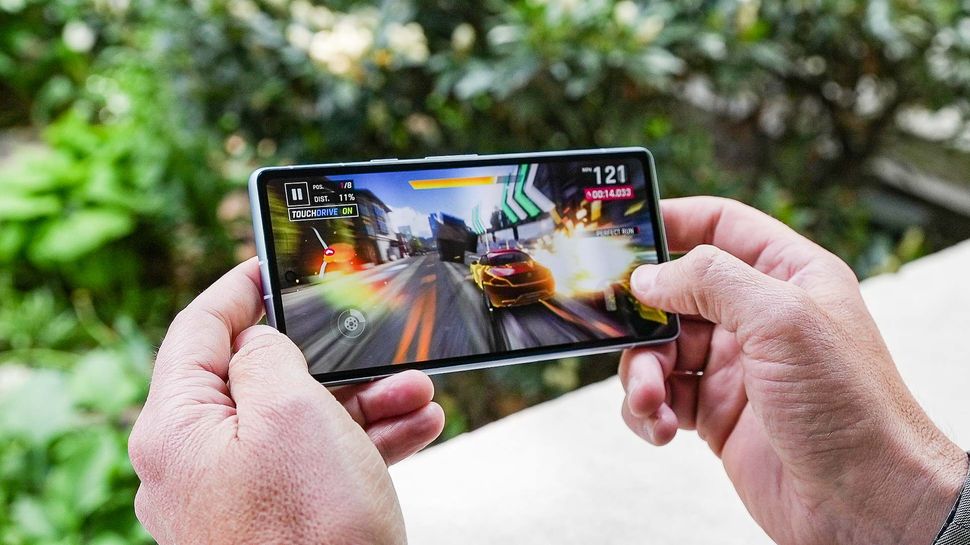 Typically faster refresh rates can drain a phone's battery, so it's unclear if the Pixel 7a will beat the category average with any of its premium features enabled. But at least our preliminary results show that Google phones are heading in the right direction when it comes to battery life.
You get a bright display
The Pixel 7a's 6.1-inch OLED not only refreshes quickly when on-screen content demands it, it's also very bright. It's certainly one of the shiniest mid-range models we've tested recently, which becomes a tougher bar to cross.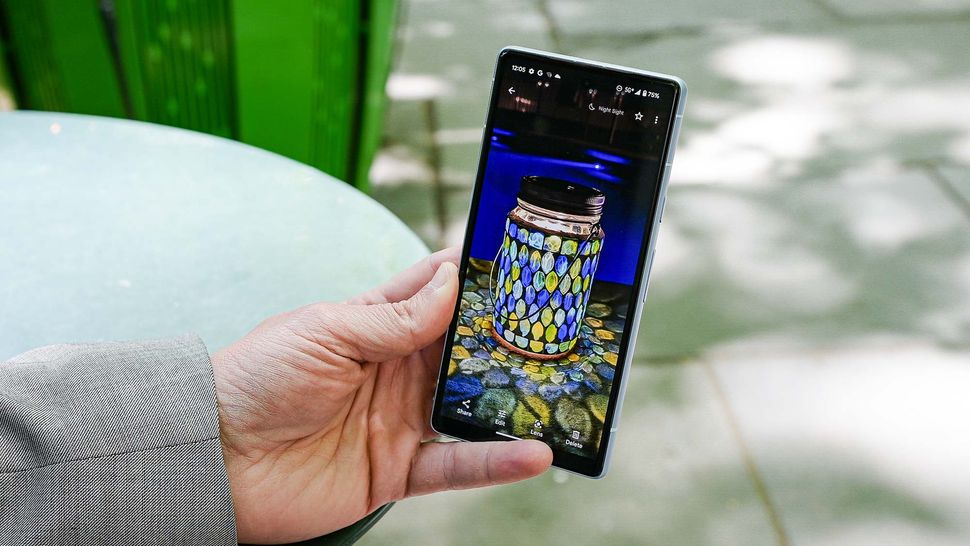 For example, the Galaxy A54 clocked a maximum of 854 nits on our light reader, which is plenty bright for a sub-$500 phone. A few weeks after testing this phone, we got our hands on the Pixel 7a and got an even better reading – 931 nits.
The bottom line is that both phones will be readable in direct sunlight. But put them side by side, and the Pixel 7a should eclipse the Galaxy A54, even if by a small margin.
Color options are Google's best in years
Describe me as someone who thought the Sage color option on the Pixel 6a was a bit of a letdown. And when that's combined with the usual variations of white and black (or Chalk and Charcoal, as Google calls them), you don't have many colors at your disposal when choosing a phone.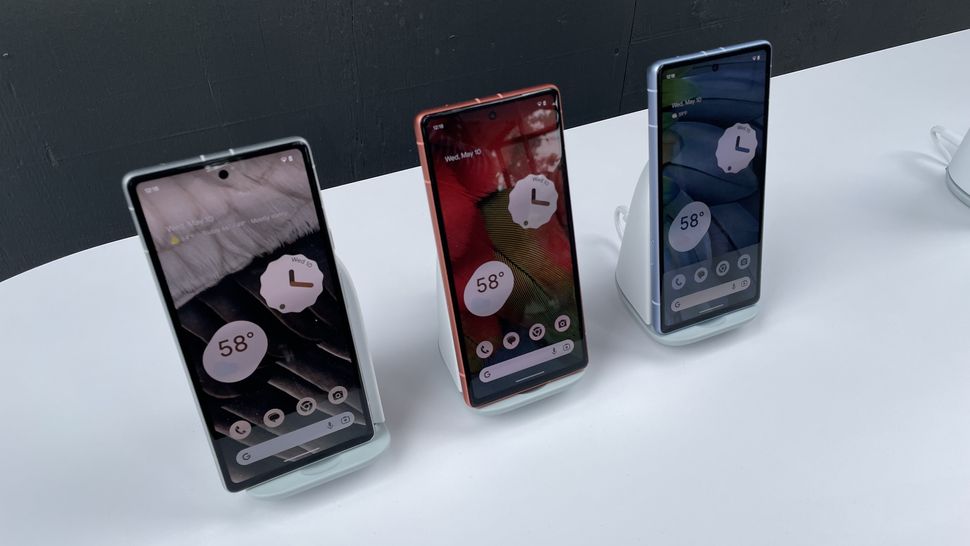 I don't know if Google has received much feedback along these lines, but the Pixel 7a doesn't shy away from color. Yes, you get your usual Charcoal and Snow options – someone at Google has to keep the thesaurus open to 'white' – but the Sea and Coral options add a nice splash of color. (The latter option is available exclusively in the Google Store.)
I still think the Galaxy A54 offers more eye-catching colors, but the Pixel 7a isn't that far behind and certainly tops the trio of blah color options that make up the iPhone SE lineup.
Google Pixel 7a Outlook
The Pixel 7a isn't the perfect phone. If you want raw power from your mobile device, you won't find it here, and the bezels surrounding the screen are a little too much for my taste. You could say that for $50 less, the Galaxy A54 offers its own share of premium features in a device with a bigger screen.
But those quibbles aside, Google has created a great budget phone in the Pixel 7a. If that doesn't take the time to sing the phone's praises at its developer conference, then someone else should.
More from Tom's Guide